In 2015, I embarked on a journey to visit all of the National Parks in the contiguous United States in my Honda Element. Along the way, I endeavoured to visit as much public land as possible. The goal was to better my understanding of America's wilderness and conservation ethic by studying and exploring the places that we have chosen to protect. Chasing Cairns began as a medium to document that experience through my words and images.
When I completed my tour of the National Parks in the spring of 2016, I realized that there really was no end in sight. I had thousands of photos left to process and an infinite number of experiences that still needed unpacking. I still needed an outlet for that work, so Chasing Cairns persisted.
Now, I am gearing up for my next adventure and am, of course, bringing Chasing Cairns along for the ride. What began as a focused forum for discussion of public lands, travel, and outdoor education has grown into so much more. Now, I see Chasing Cairns as my platform for sharing my passions with the world. I would be a fool to give up something like that.
I have not, however, given you much (if any) information about the person writing these words. Though, I believe that one's personality often shines through more clearly in one's writing than in one's life story, the historian in me feels compelled to give you some insight into my background.
Growing up in Madison, WI, the vast majority of my adolescent life cycle has mirrored that of the standard American youth. Nine months of school followed by roughly three months of relaxation, shenanigans, and adventure. I was lucky enough, though, to have parents whose schedules matched those of the public schools, which liberated our family during the summer months. For me, this provided the opportunity for three distinct summer experiences that would drastically change my life: a 10,000 mile road trip of the American West, a NOLS course in Wyoming, and a decade of summers spent on the shores of Lake Superior. Each plays into my story, but it was NOLS that coaxed down the path that I am currently on.
When I was fourteen, my parents encouraged me to step outside my comfort zone. Together, we decided on a NOLS course in Wind River Mountain Range in Wyoming. I'd been hiking all my life, but backpacking was totally new. Nervous, I boarded my first solo flight to Lander, WY. Little did I know what was in store for me. After meeting my group and my leaders, I knew I was in for a great summer. I did not know, however, that we would run multiple evacuations, weather lightning storms, summit multiple peaks, and wander some of the most beautiful country that I have seen to date. Although I remember many moments vividly, one experience remains paramount in my memory from my time in the Winds. Nearing the end of our trip, we summited our final peak as the sun was setting. Our leader, Josh McNary, stopped all of us and told us that we would be hiking in silence. We all wondered, why? "Out of respect for the rocks that have been here for thousands of years," he replied "and will remain here for thousands more." Our group hiked upwards with our mouths closed, but our eyes wide open. As we summited, the sun was sinking low into the distant horizon. Our silence continued. In that silence, Josh climbed on top of a large boulder and began meditating in the last rays of the sun. That image will never leave me.

After that summer, my path changed. I became infinitely more drawn to natural spaces, their exploration, and to the feelings that they aroused in me. Yet I didn't only want to see those places for myself, I wanted to share them with others. I wanted other people to have the opportunity to learn what it is like to celebrate the reflection of the Milky Way in the temporary calm of an alpine lake or ponder the silhouette of a jagged peak etched against a crimson sunset. The summer after my NOLS course, I began leading sea-kayaking trips in the Apostle Islands National Lakeshore of Lake Superior. Bayfield, a place that I had dreaded for so many summers became my sanctuary. And every day I had the opportunity to share the power of Lake Superior with those around me.
Although I never would have guessed it, my life channeled me towards Bates College. Bates's philosophy mirrored my own. Bates builds a community of open-hearted, understanding students who push one another to challenge their perspectives and the world around them. Under my professors watchful eye, I became the student I never was in high school and began to find my voice as a writer. In Commons (our communal cafeteria), I tested my commitment to learning about sustainable food systems and nutrition by transitioning to a vegan diet. During my studies in Barcelona, I started to grapple with the differences that set the United States apart from many parts of the world. In Maine's mountains, I realized that the West was not the only part of the country with worthwhile summits. Bates College got me that much closer to discovering who I really was.
After college, I moved to North Carolina, hoping to realize my dream of becoming a high school history teacher. At my school, I had both administrative and teaching responsibilities, which gave me a truly unique insight into the internal mechanics of a small independent school. I worked through my first lesson plans, teaching US history, Roman history, and even physical education. After hours, I became engrossed in the world of competitive CrossFit. Both my school and CrossFit communities became my de facto families. I spent two years teaching and working in North Carolina, but I learned more than I ever could have imagined about people, morality, politics, culture, faith, dedication, respect, honor, and myself.
Eastern North Carolina, however, proved far too topographically challenged for me. I found myself constantly dreaming of the mountains of the West or the rolling hills of the Northeast. I knew I had to make a change. The opportunity presented itself when my dad invited me to join him on a trek Coast to Coast across England, a trip that he had been lusting over for what felt like decades. I took the bait, knowing it would mean that I would have to quit my job. Done.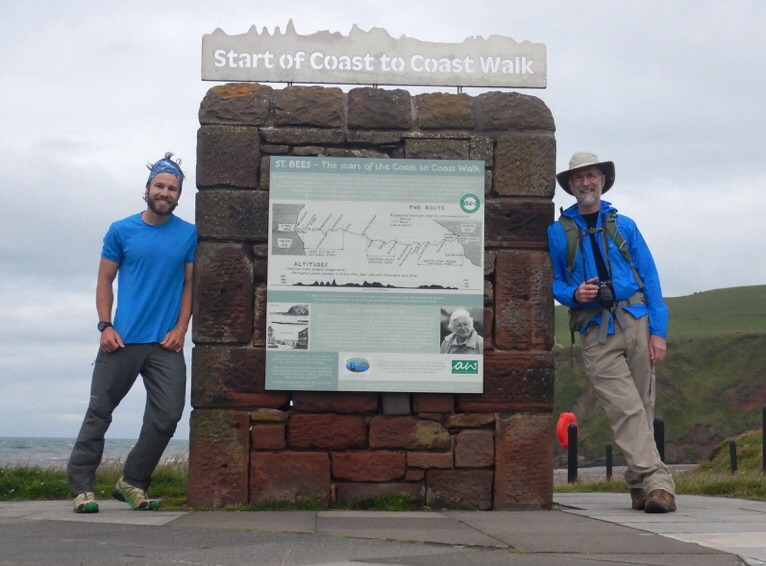 My unemployment gave me the freedom to fantasize about the possibilities for the upcoming year. I decided to devote that time to exploring the contiguous United States, framing the trip around American public lands, specifically the National Parks. I would end my trip with a NOLS instructor course in Wyoming, the capstone project of a decade of work in outdoor education. As all the pieces fell into place, Chasing Cairns was born.
At the end of April in 2015, I completed my National Park tour, driving over 32,000 miles, exploring 45 of the 47 National Parks, and visiting countless areas of public wilderness. A month later, I completed my NOLS instructor course and will work with them as a seasonal field instructor for the foreseeable future.
My intense focus on my written work over the course of my trip has also opened other doors for me. After being published in the New York Times, I inadvertently waltzed into the world of freelance journalism. Sharing my stories with a larger audience, whether that is through my published work or through backcountry experiences for my students, will clearly continue to be my focus as I move forward into my next adventure.