It is pretty hard to understand the way I travel without a quick introduction to my vehicle: Sam. Named after the main character in

The Far Side of the Mountain by Jean Craighead George, Sam is a sturdy 2008 atomic blue Honda Element. But that isn't the beginning of our story.
When I first designed my trip through the National Parks, I had to figure out what kind of vehicle I would use. I thought about the Subaru Outback, Honda CR-V, Subaru Forester, and all manner of trucks equipped with a camper shell. I had already drawn up my buildout plans for an Outback and was poring through Craigslist and AutoTrader on a daily crusade to find a car at the right price point. Once I had sufficiently worked my way into a deep rabbit hole, I asked our family mechanic for a bit of advice for a car that I could effectively live out of. He had two words for me: Honda Element.
At first, I was a bit underwhelmed by his suggestion. I had seen these cartoonish, Lego-like SUVs cruising around, but had rarely given them a second glance. But after a few late-night Googling expeditions, I started to see why he had made the suggestion. Between the dependability, customizability, versatility, and functionality, I was convinced.
Let me provide a quick introduction to the Honda Element. Released in 2003, the Honda decided to build on the success of their popular CR-V model with the Element. Mechanically, the two cars had a lot in common, but they differed greatly in their design. The American-manufactured Element prioritized one thing above all else: function. From the water-resistant interior to the fully customizable seat arrangements, from the tailgate to the massive moonroof, from the suicide doors to the Real Time 4-Wheel Drive, Honda designed this vehicle for whatever adventure you have in mind (and I had quite the adventure planned).
The Element's life, however, was relatively short-lived. Apparently, Honda misjudged its target market and the ski bums, surfer dudes, mountain bike maniacs, dog owners, and gardeners weren't willing to shell out over $20,000 for their dream car. In the end, Honda pulled the plug on Element production after a poor year in 2011. RIP.
The removal of the Element from Honda's production line did not have the intended effect on its popularity. Over time, the Element rose to a legendary status among car owners. It's "do anything" attitude made it a highly coveted vehicle and its mechanical longevity meant that it stuck around for quite awhile. The Element's cult-like following doesn't make them easy to find though.
Once I decided on the Element, I knew I had a bit of an uphill battle ahead of me. Their committed underground following has made good, healthy Elements hard to find and has driven the price point up. As a first time car buyer, searching through Craigslist and AutoTrader did not leave me feeling very confident. I didn't really know what to look for, what questions to ask, or how to spot a lemon. Luckily, fate intervened on my behalf.
While working a prairie burn, my mom noticed an Element drive up to her friend's farm. Knowing my current fascination, she spoke with the driver and asked her about her Element. After lauding its qualities for awhile, this driver mentioned a man from Madison named Mike "Element Mike" Wenkman. Apparently, he was exactly the man I needed.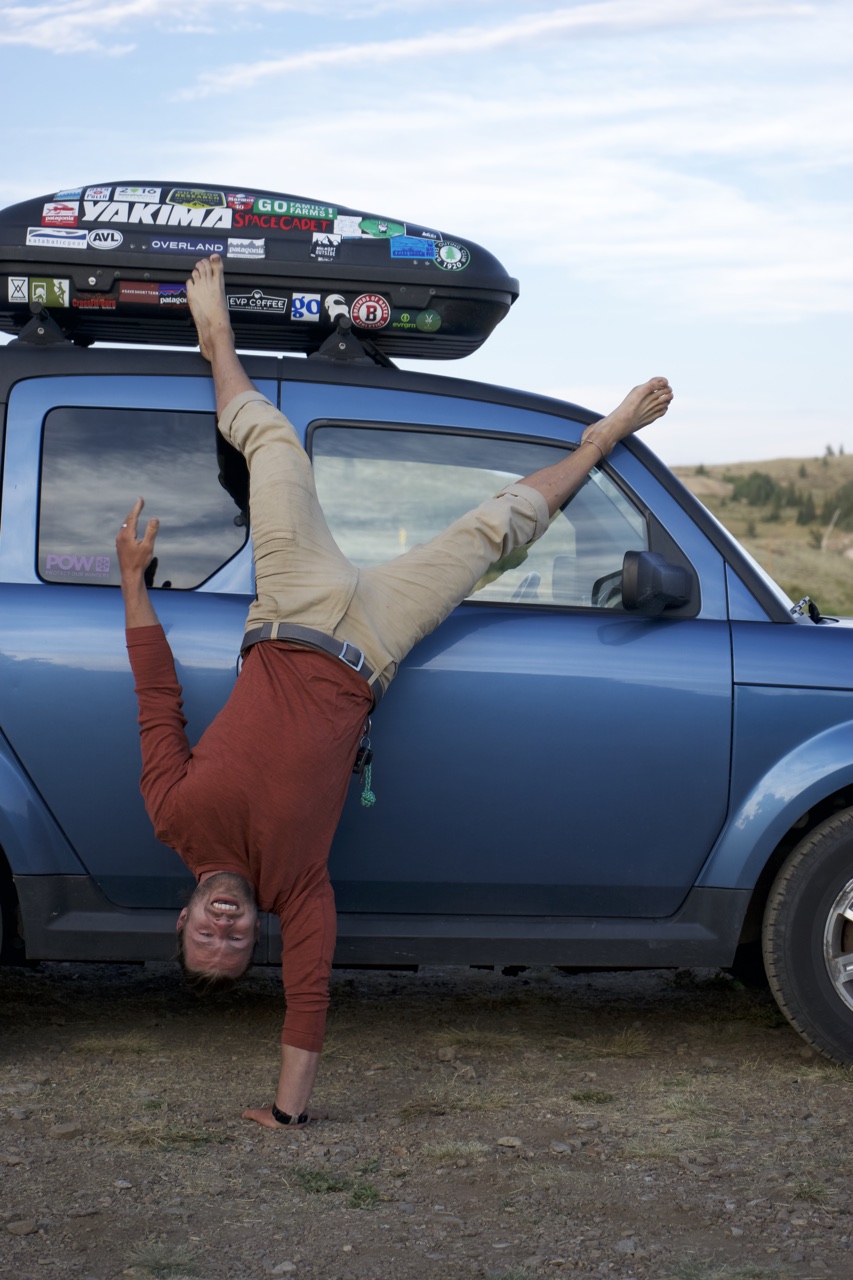 I got in touch with Element Mike the next week, describing to him my situation and my desire for an Element of my own. After I had finished, he described what he could offer me. He had been finding Elements for people for half a decade. He would track down used Elements in auctions or sales all over the United States, bring them back to Madison, inspect them, complete all of the mechanical and cosmetic repairs, then pass them along to their expectant owner with a generous warranty. He was just the guy I was looking for.
Within two weeks, Mike had found the car I was looking for. By June, when I returned home from North Carolina, he had it all tuned up and ready to roll. At long last, I was united with the vehicle that would be and continues to be my home. 
Having the vehicle, however, was just the beginning of my adventures in home ownership. As with any used house, I had a lot of work to do. To tackle all of these tasks, I enlisted the help of my mom. We spent the two weeks before my trip began building a set of baltic birch boxes (that would become my bed and storage system), cut out panels of gym flooring (that I would use to blackout my windows), sewed brown fabric together (that I would use as my fitted sheet), and worked tirelessly to make sure that my new house felt like a home. 
All of these amenities make it possible for me to live in my vehicle. I can cook from my tailgate with my modular kitchen, sometimes I even make coffee while I am laying in bed! I have a full-size mattress in the back that makes any parking lot or campsite comfortable. I have all the gear required for activities ranging from winter camping in the mountains to rock climbing in the desert. I can meet all my power needs with an internal battery. In 77 cubic feet of space, I have a home.
On August 25, Sam and I headed off on our adventure. 40,000 miles later, we are still going strong. Along the way, we've had some issues with brakes, tires, and even an escaped drain plug, but Sam has been a trooper through each and every event. He is a champ.