Our Miharo welcome to New Zealand continued into day two with a wonderful breakfast followed by yet another off-roading adventure around the property. In our short time there, we must have covered just about every track that Miharo had to offer with Ross cheerfully narrating each drive. By mid-morning, however, it was time for us to leave the nest and venture out on our own. Ready as we thought we were to begin our solo adventure, Chris insisted on accompanying us for part of the day, offering to drive us into Auckland and make sure that we pointed ourselves in the right direction.
We tossed our bags into Chris's car, said goodbye to Ross (and Mack), and headed into Auckland. First stop: Escape Campervans. I'll admit, I was nervous. We were about to meet the vehicle that would be our home for the next month. What if the van was hideous? What if it smelled funny? What if it had been poorly taken care of? Yikes. Alongside my nerves, I felt a tinge of shame. I was, in effect, cheating on Sam, my Honda Element. He was my campervan and trusty adventure-mobile. He went everywhere I went. He kept me dry when it rained and warm when it got cold. Now, I would be relying on a new and unfamiliar vehicle.
After a whirlwind of paperwork, we met our campervan. Her name is Chilly. She's a blonde and a brunette. She's spicy and sweet. My nerves subsided and excitement began to creep in once more. The shame stuck around. What would Sam say if he knew that I was sleeping with a woman named Chilly? How scandalous. Needless to say, Escape Campervans took great care of us and my mom and I both love Chilly. She's been a true champ so far.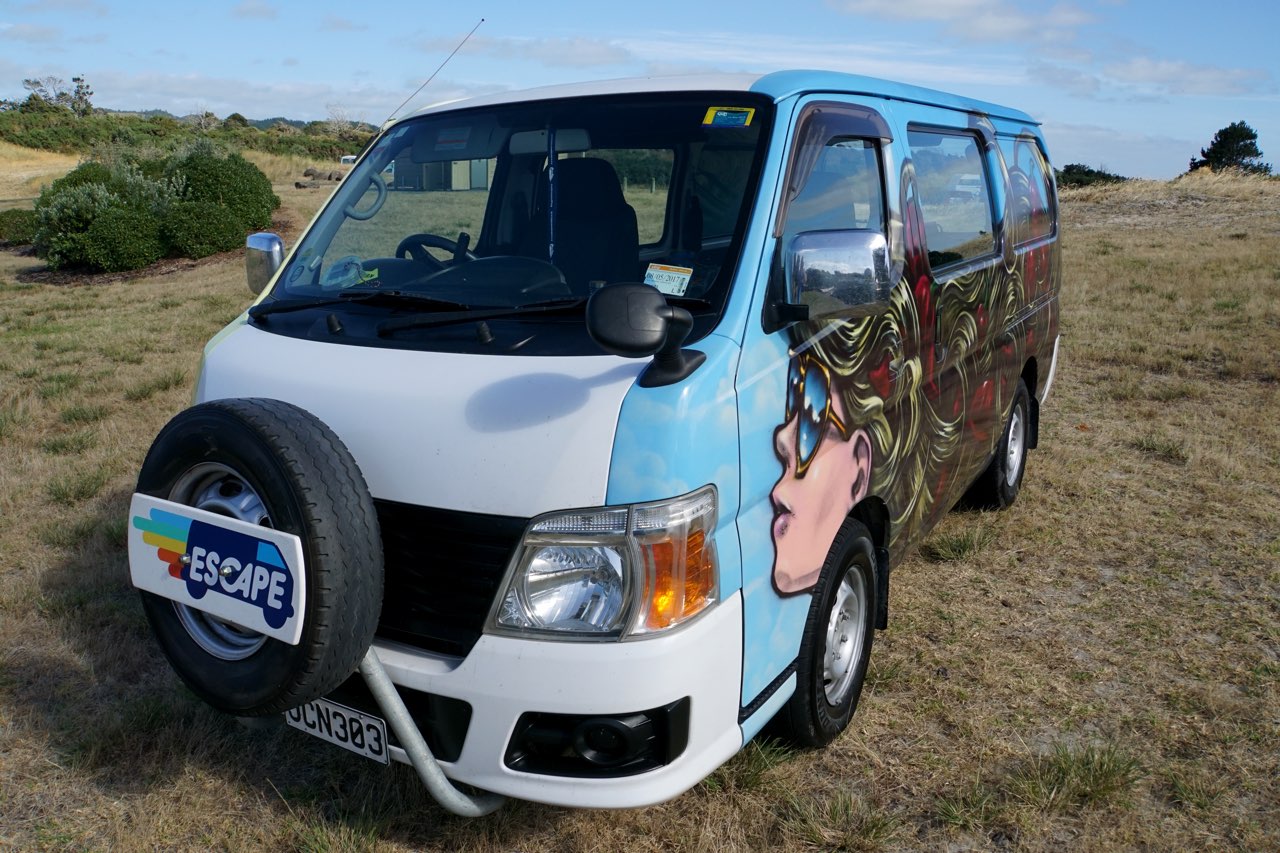 Chris, patient as ever, hung around as we got our van. She had a feeling that we might want some help exiting Auckland and finding a grocery store/mall where we could load up on some essentials. She also wanted to make sure we didn't kill ourselves driving a new car, in a foreign country, on the left side of the road! She led us to Albany, carefully navigating the thoroughfares of Auckland so that we wouldn't get lost or flustered. Once we had parked successfully, we said our goodbyes, hoping that we would see each other again on the tail end of our trip.
Shopping and wandering through mega malls isn't usually one of the first tasks that I associate with travel. When you travel in a mobile home, however, there are certain things that are nice to have. For the next few hours, we picked up New Zealand cell phones, checked out some gear shops, and loaded up on groceries. By the time we had packed our food into the car, we were both more than ready to leave the mall behind. That is *not* why either of us came to New Zealand.
We left Albany and headed north, stopping off at a beach to have a quick bite to eat. From there, our road swooped back and forth between the coast and the rolling hills of the interior. We drove past hillsides dotted with dozens of sheep, pastures filled with cattle, and open vistas containing every imaginable shade of green. Most of the time, our jaws lagged towards the floor of the car. The beauty was inescapable, but not ostentatious. It was simple and timeless.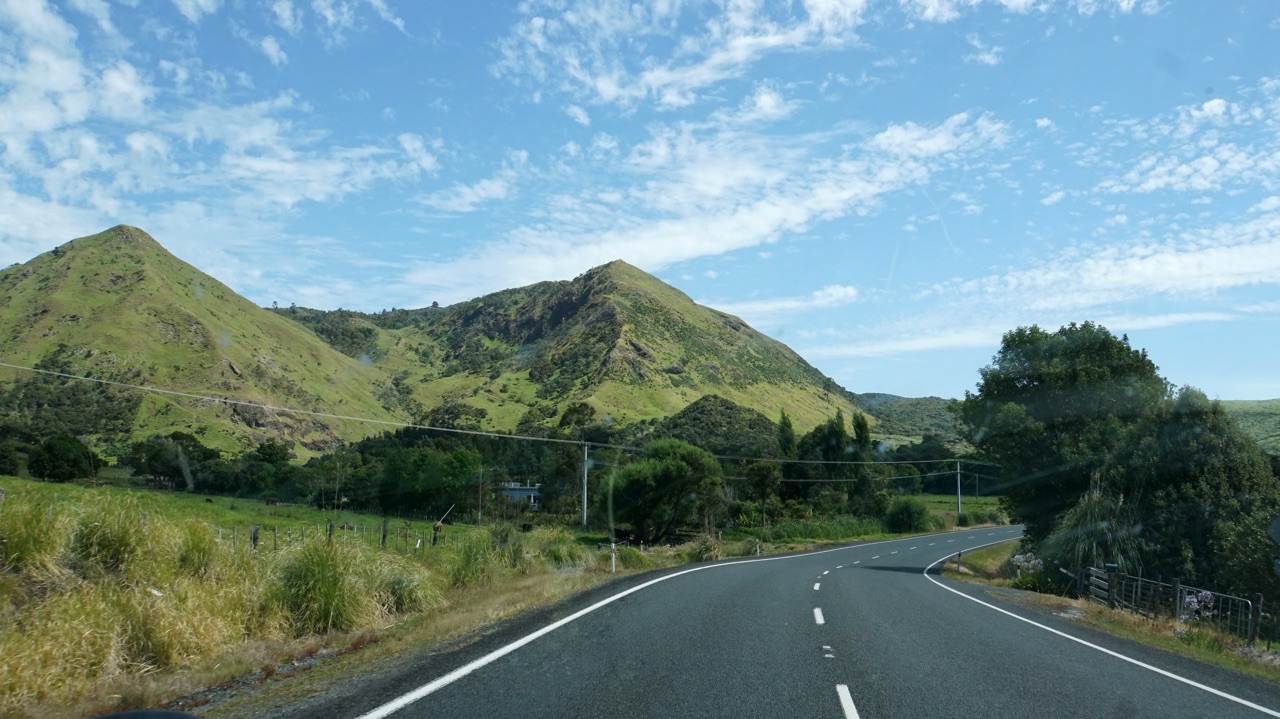 We tucked early in for the night at Uretiti beach, using the last few hours of daylight to walk the beach, cook dinner, and explore how best to sleep in Chilly. By the time we went to bed, Orion had climbed into the sky. In Baja, he had risen horizontally each night. Here, he was almost upside down. Our drooping eyelids were clearly not the only indication we had flown halfway around the world.
The next morning, I went for a run on the beach before testing out our french press. New Zealand is well known internationally for its coffee. That first cup did not disappoint. The hot coffee paired perfectly with the thick slabs of toast smothered in either avocado or banana and peanut butter that are staples of any car camping adventure. As we sat back in our camp chairs, my mom and I both let out a collective sigh of relief. The sun was shining. The food was delicious. The ocean was near. And we did not have a care in the world.
Breaking down camp in a campervan is ridiculously easy. All you have to do is stow your sheets and climb into the driver's seat. Off we went, continuing north. We passed through Whangerai, which offered another healthy dose of retail therapy. Outside of Matapouri, we had lunch on the beach and waded out into the South Pacific. Our consistently coastal route followed *every* contour that the land had to offer. Wildly curving roads with minimal shoulders and steep embankments tested our ability to keep Chilly on the left side of the road. We passed with flying colors, ending our day at the Waitangi Treaty Grounds. More on that tomorrow.
As always, I leave you with a map
---