I was planning on saving this post until the trip was over and could more meticulously photograph the gear that I've been using, but we've got killer wifi tonight and some time to spare so I figured I would do at least a cursory post about the soft goods we've been using on the trip. I'll definitely do more extensive reviews of many of these products later on.
Much of this gear has been a part of my kit for quite a while and I will be doing do much more in-depth reviews on many of these items when I have a little more time. This short list is basically an annotated packing list for the main clothing items that I heavily relied on for the on-trail sections of the Coast to Coast. In one form or another, every Coast to Coaster has these items. They are essential, which is why quality is paramount. The choices I made are largely based on my extensive personal experience with many of these items and with the companies that produce them. I am proud to say that it seems my choices handled the Coast to Coast beautifully!
But enough of that, let's talk gear.
Base Layers
Smartwool PhD Outdoor Light Mini Socks (Hiking Socks)
Although there are plenty of companies out there making great hiking socks, Smartwool, Icebreaker, and Darn Tough make some of the best. A common thread among these three is that they all work in merino wool. I refuse to hike in anything but merino. It wears well, breathes well, insulates well, and keeps odor at bay far longer than your synthetic alternatives. Go merino.
Icebreaker Oasis Brief (Underwear)
Like socks, there are many companies out there making great underwear for hikers that don't want to be smelling like crotch sweat on day one of a seven day trip. Icebreaker often has a more athletic cut and these briefs are no exception. They have some support, but not much, and have a relatively short inseam. I wear them every day.
Icebreaker Tech-T Lite (Short Sleeve Hiking Shirt)
Anyone who knows me can attest to the fact that I wear mostly Icebreaker Tech-T Lite tees. Sure, they are a significant upfront expenditure, but they are totally worth it. These merino tees wick sweat like none other on a hot day and provide great insulation when the weather gets damp and chilly. They are also incredibly lightweight and come in a myriad of great colors adorned with some truly thoughtful and beautiful designs. My only gripe with merino is that it sometimes lacks in the durability department. That being said, if you take good care of these tees, they will take good care of you. My go-to outdoor activity Tech-T lasted me through five years of kayaking, backpacking, CrossFit, and many more adventures. It has a few holes and has worn thin in other areas, but I still get great use out of it. Commit to the Tech-T, I promise you won't regret it.
Icebreaker Oasis Long Sleeve Crewe (Long Sleeve Hiking Shirt)
Layers are definitely important for any extended trip because you never really know how the weather may shift. We all have seen those days: sunny in the morning, chilly rain in the afternoon. The Oasis long sleeve is a heavier weight merino layer that will provide more insulation than the Tech-T, while still giving you that great insulation and breathability that I've come to love about merino wool. And, it won't smell bad at the end of the day, or the day after that, or the day after that! I wore one of these under my rain jacket on the Coast to Coast when the temperature dropped into the 40s as we hiked into blustery rain. I was supremely comfortable.
Eddie Bauer Mountain Guide Light Pant (Hiking Pants)
So far, you should be recognizing the merino-loving pattern. There is no doubt I have an addiction. This piece of gear is not merino and for good reason. As I mentioned earlier, one of merino's only drawbacks is its durability. I am willing to sacrifice durability for the insulation and breathability for my upper layer, but not for my pants. For years, I have been trying to find a great hiking pant and have been thwarted by the baggy, drab cargo pants that are so often associated with hiking. The Mountain Guide Light Pant from Eddie Bauer's First Ascent line solved my problem. These bad boys have a tapered leg adorned with a discrete cargo pocket on the right side. They are made of a lightweight soft shell material that breathes wonderfully, but is weather resistant. These were my go to pants for potentially rainy days when it was a bit colder. They handle spitting rain, gentle showers, and mist wonderfully. In a downpour, you are still going to want rain pants. For anything else, these pants will be all you need!
Note: Sadly, I just discovered these pants have been discontinued! Why did I only buy one pair?!?
Columbia Thrift Shop Shorts (Hiking Shorts)
I have never paid big money for hiking shorts. Any lightweight, quick dry shorts that don't chafe will do. My current favorites are a light purple pair of Columbia women's shorts. For $5, I'd say they are one of my best buys!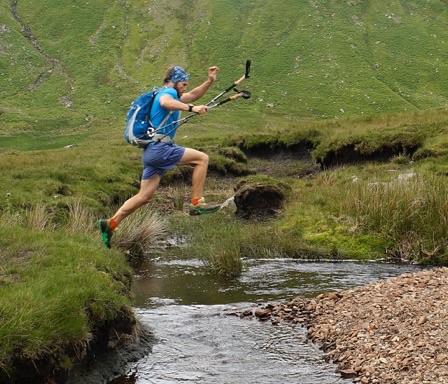 Salomon Speedcross 3 (Hiking Shoe)
I am going to do a big post on how these shoes handled the Coast to Coast trip. They a great shoe, but I would not recommend them for anyone planning to hike this trail. I would recommend that people steer clear from full leather boots with ankle protection and look for something along the lines of a trail runner/hiking shoe crossover like the Salomon XA Pro 3D. If I could do it all again, I would have worn those.
Outerwear
Mountain Hardwear Stretch Plasmic Jacket (Rain Jacket)
Any adventure needs a good rain jacket. The Coast to Coast really needs a good rain jacket. I opted for the Mountain Hardwear Stretch Plasmic because it is lightweight, breathable jacket from a company that I trust at a price point I can live with. There are better rain jackets out there, but this one provides stellar protection for its weight and price. In the past, I have relied on the triple membranes of hardshell Goretex options from companies like Arcteryx and they have been great. The Stretch Plasmic breathes better, is lighter, costs half as much, and keeps you just as dry. After three weeks in the spitting rain of Northern England, I am still convinced that it was the right jacket for the job.
Note: This jacket has been updated and is now called the Stretch Ozonic Jacket from Mountain Hardwear.
Mountain Hardwear Stretch Plasmic Pant (Rain Pants)
When pouring rain is more than likely, a good rain jacket might not be quite enough. In such times, I suggest you turn to Mountain Hardwear's Stretch Plasmic pant offering. These pants, like their matching jacket, are lightweight, breathable, and have a surprisingly athletic cut. I grew up dreading rain pants because they were billowy and made my legs sweat because they were entirely impermeable. Fear not, these pants have solved that problem! They also feature a full zip on both legs, so that you can remove them without taking off your boots. Not a feature that I use or really like that much, but some may find it useful. Again, not necessarily the best rain pant money can buy, but they a great compromise between cost and quality. Mountain Hardwear does great work.
Note: This pant has also been updated and is now called the Stretch Ozonic Pant.
Accessories
UV Half Buff (Headwear)
As someone who is currently going through the "awkward phase" of growing their hair out, I would say my Buff is necessary in all aspects of life. For those with a perfectly styled head of hair, I will suffice to say that it is a surprisingly useful addition to any packing list. Let's begin with fashion. With hundreds of available colors, there is no easier way to spice up your hiking wardrobe than a Buff. The patterns they come up with are serious cool. Somehow, I have accumulated at least five different Buffs. They come in many shapes and sizes, so you can find the perfect one for your needs. As this was a warmer weather trip, I opted for the UV Half Buff because I didn't need all the extra fabric of the Original Buff or the even longer Wool Buff. For me, the UV Half Buff was perfect. It provided just enough insulation to keep my head warm, but was never oppressive when it got hot out. Having one of these is the easiest way to regulate your temperature on trail without having to constantly add or take of a layer. For that reason alone, it is a totally worthwhile piece of gear.
Those are my thoughts for now, expect a few more posts about the hard goods and tech that I would recommend for the Coast to Coast. Feel free to ask any questions in the comments below!